---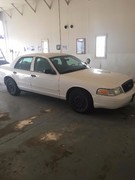 2005 Crown Victoria (does not run)
---
Airport Surplus Property For Sale
Sealed Bids Due by September 21st at 5:00 p.m.
The Wahoo Airport Authority has declared the following items as surplus and they are now available to the public for purchase. These items will be sold to the highest bidder through a sealed bid process. Any bids must be higher than established scrap value for metal recycling. All property will be sold "as is" with no warranty. Clear title will be provided on the vehicles immediately (if cash payment) or when deposit of funds has been verified (if check payment).
Items for sale include (see photos attached):
2005 Crown Victoria (does not run)
1990 Ford Tandem Conventional "L" LT8000F Dump Truck with snow plow attachment
Grasshopper 721D (no deck)
Sweepster attachment for Grasshopper - Model #BD-60
Electric regulator for runway/taxiway lighting
Surplus runway/taxiway lighting fixtures (post style fixtures)
Surplus runway/taxiway lighting bulbs (bulbs only)
Vending machine (does not work)
Items are available for inspection at the Wahoo Airport by appointment by calling 402-882-2717. Leave a message if there is no answer and someone will return a call to you.
Sealed bids should be submitted in person to the City Clerk at City Hall during regular working hours (8-5, M-F) at 605 North Broadway, Wahoo, NE 68066 and must be received by close of business on Thursday, September 21, 2017. Sealed bids may be submitted by U.S. Postal Service but must be received by September 21st and must be marked on the outside that the envelope contains a sealed bid. We will only consider those bids received by September 21, regardless of post-marked date. Bids submitted by mail should be addressed to Wahoo Airport Authority, Attn: Surplus Property Sealed Bids, P.O. Box 122, Wahoo, NE 68066.
Sealed bids can be submitted on the form available in the link below, or can be a simple legible hand-written bid that must include: Name and address of buyer, contact information including phone or cell phone number, bid for item, number of items desired (for lights). Bids MUST be signed by the interested party.
Any further questions can be directed to Melissa Harrell at 402-443-3222 during business hours.
Notice of Sale of Surplus Property - Wahoo Airport