Wahoo Fire & Rescue Department
The Wahoo Fire and Rescue Department, owned and governed by the City of Wahoo, is operated by a volunteer membership, and provides both fire and EMS service for 71 square miles in Saunders County. Members devote countless hours to serving their community by performing skilled tasks including, by not limited to, firefighting, emergency medical services, water rescue, confined space rescue, and ice rescue. The department is governed by the City of Wahoo and the Wahoo Rural Fire District.
We welcome new members to the department! New member applicants must be at least 18 years of age, and possess a valid Nebraska driver's license. Please click HERE to view the department application. Please print, read and complete all sections of the application. Please return completed applications to the Wahoo Fire and Rescue Department by either scanning and emailing to wahoofire@wahoo.ne.us, or faxing to (888) 709-0945. Completed applications may also be dropped off at City Hall (605 N. Broadway).
If you have any questions, please contact WVFD Chief Cody Hull at (402) 443-6067.
2017 Officers:
Chief: Cody Hull <wahoofire@wahoo.ne.us>
EMS Chief: Grant Anderson <wahooems@wahoo.ne.us>
1st Assistant Chief: Tim Bohaty
2nd Assistant Chief: Chris Rappl
Water Rescue Captain: Cory Kumpula
Fire Captain: Corey Wagner
Fire Captain/Training Officer: Jason Semrad
Fire Captain/Training Officer: Carl Warford

President: Bob Chvatal
Vice President: Ken Braun
Secretary/Treasurer: Dave Privett
Sergeant at Arms: Andy Nordstrom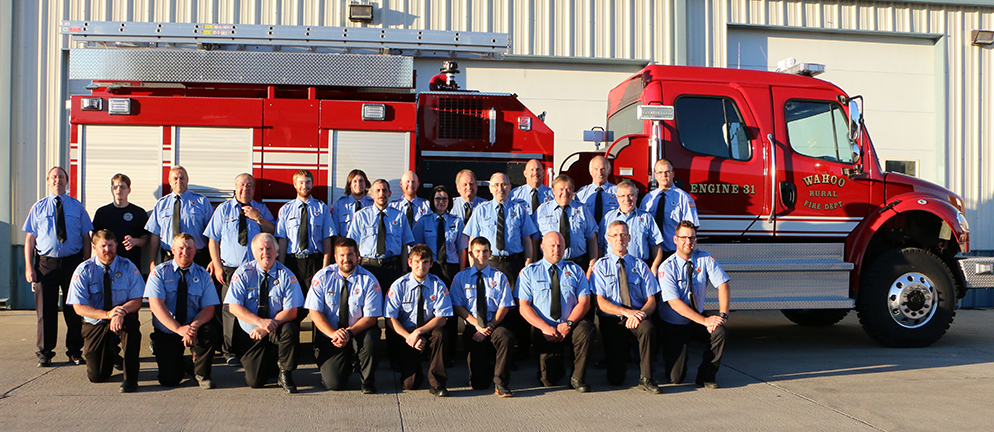 Members of the Wahoo Fire Dept. (photo taken Oct. 12, 2016), Front row, from left: Tim Bohaty, Andy Nordstrom, Mark Meyer, Carl Warford, Brett Geary, Josh Buckmaster, Jayme Iversen, Corey Wagner, Cody Hull. Back row, from left: Ken Braun, Honorary Member Thomas Bettendorf, Chris Rappel, Ron Voboril, Kyle Arp, Schyler Shanahan, Joel Loather, Jacob Sladky, Erinn Blake, Craig Wagner, Mike Svoboda, Matt Ruhrer, Joe Vculek, John Virgl, Dave Privett, and Jason Semrad. (photo courtesy Lisa Brichacek, Wahoo Newspaper)
Current WVFD Members:
Grant Anderson
Erinn Blaske
Tim Bohaty
Tyler Bonnicksen
Ken Braun
Josh Buckmaster
Bob Chvatal
Brett Geary
Tony Grabowski
Cody Hull
Jayme Iversen
Thomas Johnston
Cory Kumpula
Michelle Libal
Michael Meduna
Mark Meyer
Andy Nordstrom
David Privett
Chris Rappl
Matt Ruhrer
Jason Semrad
Schyler Shanahan
Jacob Sladky
Mike Svoboda
Joe Vculek
Michael Vculek
John Virgl
Ron Voboril
Corey Wagner
Craig Wagner
Carl Warford