Wahoo residents and members of Saunders County are being asked for their input in our future! 
Heartland 2050 has announced dates for regional workshops across the Omaha metro area planning region.  This includes Wahoo and Saunders County.  Mark your calendars now and plan to attend!    
     WHAT:     Saunders County - Regional Visioning Workshop for Heartland 2050
     WHEN:     Thursday, October 10, 2013, 6:00-8:30 p.m. (doors open at 5:30 p.m.) Food and drink will be provided to attendees
     WHERE:     Wahoo Performing Arts Center, Wahoo Public Schools, 2201 North Locust
What is Heartland 2050?  Heartland 2050 is a long-term vision planning activity for the eight county Omaha-Council Bluffs Metropolitan Area.  This area includes five counties in Nebraska, Cass, Saunders, Douglas, Sarpy and Washington.   Three Iowa counties included are Harrison, Mills and Pottawattamie.
What is the purpose of Heartland 2050? The purpose of the Heartland 2050 project is to identify and plan for regional growth out to the year 2050.  The population of the eight county area is projected to double to 1.5 million people by 2050.  How do communities and area-wide planning groups prepare for our needs?  Where will we live, work and play?  How will we all get around?  In order to preserve the advantages we have – and make the changes we want to see happen – we need a plan.
Check out the website for more information on the planning session and other ways to get involved. Help us shape OUR future!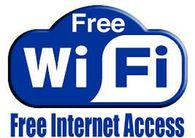 Wireless Public Internet Access Now Available
We are pleased to announce the addition of Public Internet Access at the Civic Center.

In response to requests from our patrons and as part of our continuing effort to provide an even more user-friendly environment...a free, public, wireless network has been installed to access the internet throughout the facility.  To connect, look for "WCC Public" on your laptop, tablet, or other wireless device the next time you're in the building.