The City of Wahoo Mayor's position and three City Council positions are up for election in 2014. These are four year terms, starting in December of 2014.
If you are interested in running for any of these positions you must be a resident of the City of Wahoo. If you are interested in a Council position, you must be a resident of the Ward you will be representing. The Wards are described and shown in the map below. Incumbents (defined as anyone currently holding any elected position) must file with the County Clerk by 5:00 on February 18, 2014. For anyone else, you must file by 5:00 p.m. on March 3, 2014.
To file you must pay your filing fee at City Hall ($40.00 for Mayor, $20.00 for City Council) and get a receipt. Then visit the County Clerk's Office, complete the filing form which must be signed by a notary, and you are done!
The Mayor and City Council positions are non-partisan. These elections will only be included in the Primary Election held on May 13 if there are more than two individuals file for a position. If not, the election will only be included in the General Election held on November 4.
Ward I: Any residence north of 6th Street and west of Chestnut Street
Ward II: Any residence south of 6th Street
Ward III: Any residence north of 6th Street and east of Chestnut Street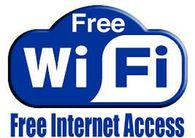 Wireless Public Internet Access Now Available
We are pleased to announce the addition of Public Internet Access at the Civic Center.

In response to requests from our patrons and as part of our continuing effort to provide an even more user-friendly environment...a free, public, wireless network has been installed to access the internet throughout the facility.  To connect, look for "WCC Public" on your laptop, tablet, or other wireless device the next time you're in the building.