COVID-19 Information
Updated May 11th - 10:37am: The COVID-19 environment continues to evolve and can change rapidly. This page has been created to keep you informed and provide important information about the latest news and announcements about City of Wahoo operations and services. The most recent information or announcement will be highlighted.
The City of Wahoo is currently under a revised 'Directed Health Measure' (DHM) issued by the State of Nebraska from May 11th through May 31st, 2020. Click here to read and review the DHM Order.
Refer to the graphic below provided by Three Rivers Public Health Department.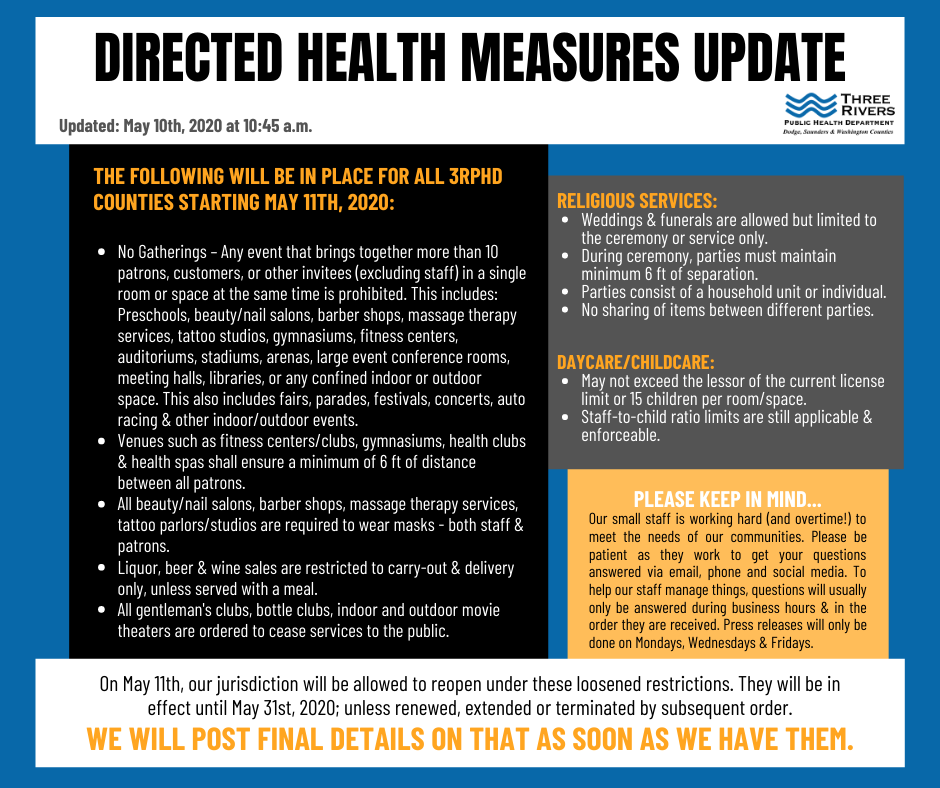 Community Resources - Please utilize the following websites and social media sites for more COVID-19 information:
Facility Closures - The following City of Wahoo facilities and buildings are closed until further notice:
City Hall - Closed to walk-in traffic. The City Hall drop box (located in front vestibule) and drive through window remain open for any utility payments or City licensing or permitting needed. We can be reached at (402) 443-3222.
Police Department - Closed to walk-in traffic. Contact the Police Department via their non-emergency phone number at (402) 443-4155.
Civic Center - Closed
Library - Closed to walk-in traffic. See below for info on limited services available.
Senior Center - Closed
Community Thrift Store - Closed
Please help our medical professionals by using the right mask. This is critical. You will see a lot of news around the CDC's guidelines to "wear masks" in public. Currently, the guideline is to wear NON-MEDICAL grade face coverings. If you have a personal supply of surgical or N95 masks, we encourage you to donate those to your local healthcare professionals in need.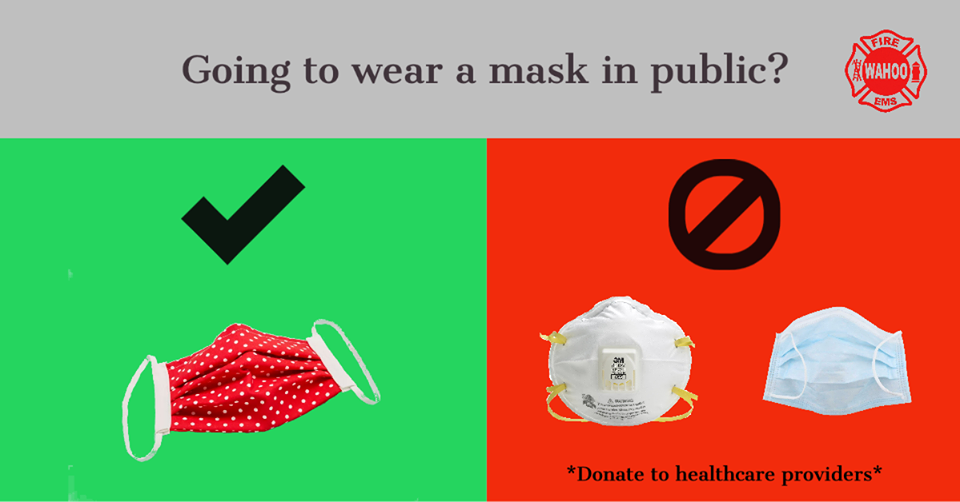 Utility bills remain due for all Wahoo Utilities customers. Payments may be dropped off at the drop box or drive through window at City Hall. To assist our customers, utilities will not be disconnected during the pandemic.
Only Flush Toilet Paper:
The Wastewater Department reminds the public...please, please, please DO NOT flush any product other than toilet paper down your toilet. Personal sanitary wipes, baby wipes, paper towels, and the like do not easily break down like toilet paper and they do not travel through our sewer system the same way as toilet paper. They can get snagged easily on imperfections in the lines (like a small tree root or slight turn in the line) and literally the STUFF we want to get rid of starts piling up and is trapped, causing backups. Those types of items belong in the trash can just like disposable diapers... and should be hauled away with your trash. Thanks for your help!
Building, Inspection & Permitting
Process for Permitting during City Hall Closure:
While City Hall is closed, we are asking for the public's cooperation in some modifications to our permitting process. Below is a link to all our permit forms that we are asking the public to print, fill out and return to City Hall. We have taken efforts to protect our staff from un-necessary exposures to the coronavirus and because of that our permitting process will take slightly more time for approval. Our permitting process has not changed and we are not offering waivers of the required permits. If a permit is needed, please either print off the forms which can be accessed through the link below, or use the drive-up window at City Hall and request the necessary form. Once the form is completed and signed by the applicant it can be returned to City Hall. Please make sure the necessary supplemental information is attached when submitted. The permits will be reviewed by our Building Inspector and if there are questions the inspector will contact the applicant. Once a permit is approved by the inspector, the applicant will be contacted with the amount that is due and when that is paid at City Hall an approved copy will be provided to the applicant. If you have any questions, please call City Hall at 402-443-3222.
Link to our permit page and forms
The Parks and Recreation Department has an updated webpage dedicated to COVID-19 announcements and updates as it relates to their facilities, operations, and programming. Click here to access the site.
All playgrounds and play structures are closed until further notice. However, all City parks, trails, ball fields, and greenspaces remain open and available for use. We remind everyone however, that the current public health order prohibiting public gatherings of more than 10 people also applies to these outdoor spaces. We encourage everyone to get outside and stay active, but please be mindful of this directive and continue with social distancing norms in these environments. We understand the importance of maintaining an active and healthy lifestyle, but we ask that EVERYONE do so responsibly.
Currently the Library is staffed so patrons can reserve items online or by phone. Curb-side pick-up of materials is available at the far west sidewalk and a home delivery service is available to patrons who live in the city limits. The main line of communication with Library members is through their Facebook page. Visit here to access their Facebook page.
Staff are also posting online story-times daily. Patrons can register for library cards by calling (402) 443-3871 and they will provide the card info so patrons can use the online resources. All library cards that were set to expire in the past 60 days have been extended for another 30 days.
At the east front entry of the library there is a large cart containing various items for all ages that are free for anyone to take. They are restocking this cart every day with new items.
In our world of social distancing, we are relying on technology to keep us linked to our workplace, friends and family. But during this time there are those who want to continue to disrupt our lives through scams, cyber-attacks, fake websites, phishing emails, etc. These actors are trying to take advantage of the public's concern and fear of COVID-19 by getting folks to panic and react rashly. Remind your friends and loved ones of this to help prevent them from falling prey to these scammers.
NPPD's Corporate Securty team sent out these simple tips for us to share with you. Be diligent in protecting yourself... and in the words of a wise retired police officer..."if it sounds too good to be true, it's too good to be true".